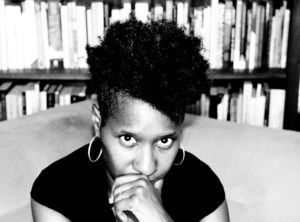 Mia McKenzie is the award-winning author of The Summer We Got Free and the creator of  BGD, a popular media website that amplifies the voices of queer and trans people of color, and Black Girl Dangerous Media, an independent media and education project that centers queer black women and girls.
Born and raised in Philadelphia, Mia studied writing at the University of Pittsburgh, where she also was first exposed to black literature and feminism. In 2009, she won the Astraea Foundation Writers Fund Award and, in 2011, the Leeway Foundation Transformation Award.
In 2012, she created Black Girl Dangerous (now BGD), a blog that quickly grew into a phenomenon, publishing over 300 queer and trans writers of color and reaching millions of readers all over the globe.
Her first novel, The Summer We Got Free, won of the 2013 Lambda Literary Award for debut fiction and has been described by the Lambda Literary Review as "simultaneously critical social commentary, ghost story, murder mystery, and queer love story…the craft of the writing is deceptively plain, and in that simplicity, achingly poignant, laser-like in its facility and effect… layers on discovery, insularity and secrets with a deft touch."
Her short stories have appeared in McSweeney's Quarterly Concern (Issue 51, 2017), The Kenyon Review (Spring 2013) and make/shift (Spring 2013), the latter earning her a Pushcart Prize nomination.
She has been featured in Bitch Magazine, Elixher Magazine, GO Magazine's 100 Women We Love, Autostraddle's Hot 100, Examiner's 10 Top Blogging Feminists Not To Miss,  For Harriet's 17 Black Women Bloggers To Know,  and the Huffington Post's 5 Bloggers Who Are Blogging Better Than You (And Me).
She's presented talks and keynotes at colleges and universities around the country, including Brown University; HBGC LGBTQ Youth Empowerment Conference at Harvard University; Amherst College; Wellesley College; Michigan State University; University of Illinois; University of Michigan; University of Wisconsin; Portland State University; University of California at Berkeley; Penn State; Oberlin College; Reed College; Lawrence University; UC Santa Barbara; University of Washington; and many more.
She lives with her family on the east coast, where she is currently working on a new novel.
To bring Mia McKenzie at your university or other venue, please contact Ash Benson at bookings @ bgdpress.org. (Questions or feedback about articles will not be forwarded to Ms. McKenzie)