SKYE FALLING: A NOVEL
A woman who's used to going solo discovers that there's one relationship she can't run away from in this buoyant novel, a probing examination of the complexities of family, queerness, race, and community.
"I can't remember the last time a book made me laugh, cry, and reflect as thoroughly as Skye Falling. Mia McKenzie has written the kind of story I've been searching for, and maybe even gave up on as a possibility, and now, suddenly, it's here. This is a narrative about family, responsibility, and home. It's a new kind of love story, the best kind, and you'll be turning the pages just as quickly as I did."—Ashley C. Ford, author of Somebody's Daughter
THE SUMMER WE GOT FREE: A NOVEL

WINNER OF THE 2013 LAMBDA LITERARY AWARD FOR DEBUT FICTION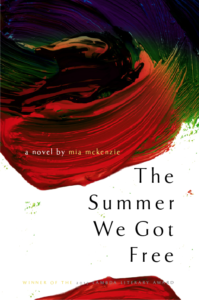 At one time a wild young girl and a brilliant artist, Ava Delaney changes dramatically after a violent event that rocks her entire family. Once loved and respected in their community and in their church, they are ostracized by their neighbors, led by their church leader, and a seventeen-year feud between the Delaneys and the church ensues. Ava and her family are displaced from the community even as they continue to live within it, trapped inside their creaky, shadowy old house. When a mysterious woman arrives unexpectedly for a visit, her presence stirs up the past and ghosts and other restless things begin to emerge. And something is reignited in Ava: the indifferent woman she has become begins to give way to the wild girl, and the passionate artist, she used to be. But not without a struggle that threatens her well-being and, ultimately, her life.
Cover design by Candace Peoples and Mia McKenzie.
BLACK GIRL DAMGEROUS ON RACE, QUEERNESS, CLASS AND GENDER
GET IT on Amazon
Mia McKenzie, creator of the enormously popular website BGD, writes about race, queerness, class and gender in a concise, compelling voice filled at different times with humor, grief, rage, and joy. In this collection of her work from BGD (now available only in this book), McKenzie's nuanced analysis of intersecting systems of oppression goes deep to reveal the complicated truths of a multiply-marginalized experience. McKenzie tackles the hardest questions of our time with clarity and courage, in language that is accessible to non-academics and academics alike. She is both fearless and vulnerable, demanding and accountable. Hers is a voice like no other.
"A fierce voice among a generation of queer and trans folk of color." –Janet Mock, New York Times Bestselling Author of "Redefining Realness"
"One of the most provocative and insightful writers of our generation." –Aura Bogado, Colorlines
"Tough-love activism at its best–straightforward, challenging, whip-smart, and uncompromising." –Andi Zeisler, Bitch Magazine
Cover design by Nye Lyn Tho.
Merch
Learned a ton about about race, gender, queerness and social justice issues from Mia McKenzie, aka Black Girl Dangerous? Rock it! Hoodies, tanks, tees and stickers!