Words by Mia McKenzie
Drawings by Ritapa Neogi
The election of Donald Trump had me in a state of shock. For some reason, even knowing all that I know about oppression and the ways that it operates, even with alllllll that I've written about it over the years, I still wasn't really prepared for this shit. I was prepared for a lot. I was prepared for Hillary Clinton, for God's sake. But not this shit. It's like the difference between going to a dinner party and knowing you might get severe food poisoning because your friend can't cook…
and going to a dinner party and being attacked by rabid possums.
Which—sidenote—are also called opposums. Because a beast that hideous needs multiple names, not unlike Satan/Beelzebub/Lucifer. They're basically the Nosferatu of animals, y'all.
But, look, this isn't about possums! Jesus Christ, people, focus!
It's levels, is what I'm saying. We've been Trumpled, y'all. Which is kinda like being trampled, but with swastikas.
Life feels suddenly really different now that Trump is President-Elect. Maybe it's not, but it feels that way.
Case in point:
I've always wanted kids. When I was a teenager, I dreamed of one day having six children. Four boys and two girls, to be exact. I dreamed of a handsome husband and a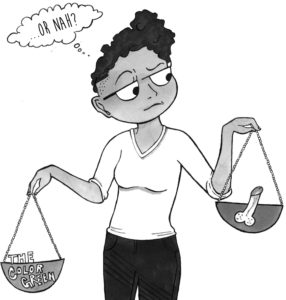 green minivan to drive us all around in. Back then, I really liked the color green. I liked dick a whole lot less, but it took me a few more years to realize that.
By junior year of college, after I'd discovered feminism and come out as a big ol' lezzie, the picture had changed. Now I wanted a wife, three daughters and a large SUV. Silver, though, not green. Green had gone the way of dick—I'd realized they were both ugly and I didn't want either of them anymore. JK. Green isn't ugly.
Anyhoo, my greenless, dick-free dreams were of raising Black girl children, of loving and nurturing them and giving them the tools they'd need to thrive in a world that would not love or nurture them. I was going to be a great mom to some amazing Black girls. As I got older, as I passed 30 and then 35 and then…well, I started to wonder if I'd ever have those kids.
Then one day, a few years ago, I was giving the keynote at a conference for queer and trans youth of color and during the Q&A following my speech, one of the youth asked if I was single. (The youth will get in your grown-ass business if you let them. Which I did, but just that one time.) I said I was single and that if anyone was thinking about trying to holler, they should be:
in their thirties (because I really wasn't trying to get hit on by "age is just a number/I have an old soul"-type college sophomores)
a woman of color (because I like mayo but only on hoagies, where it belongs) and
femme (because your stud auntie is really sweet and she reminds me of Bruno Mars, which makes me like her, but not like her like her)
 I also let it be known that I was only interested in dating fire signs and air signs, but not Libras. I mean, I'm pretty sure I dated a sociopath before, but Libras are where I draw the line.
Because yes (*puts hands on hips*), I am a grown-up who will deem you undateable based solely on your astrological sign. Or some other equally important detail like:
You say literally when you mean figuratively
You use the term masturbate to mean 'give someone else a hand-job' as in "he masturbated me". No. That's…no.
You say "I really resonated with that" instead of "that really resonated with me". What even is that????
You eat noisily and you don't even have, like, a deviated septum
Does this all make me petty and judgmental? Well, AT LEAST I'M NOT A LIBRA.
Sidenote: this post isn't about how terrible Libras are. But there's always time to at least bring it up.
Anyway, after the Q&A, a woman came up and shook my hand and told me that she used one of my writings, On Getting Free, in her work as a therapist for queer and trans people of color. She was a smart, pretty, fun, thoughtful, super-outgoing Boricua. A Leo. I liked her immediately.
A few weeks later, we were dating long-distance. We were on the phone and she said something I must have really, really liked because I said, "Let's get married and have babies."
She was like, "Um…"
And then I panicked because TOO SOON, BITCH, TOO SOON.
In the end, it all worked out, though. We did get married. And then we tried for a year and a half to get pregnant. There were several operations on my uterus. And lots of acupuncture. And we moved across the goddamn country to do IVF. It was stressssssful.
But it worked. And now we are having a baby. Like, AN ACTUAL HUMAN CHILD. Which is crazy, and which I have many, many things to say about and will do so in future posts. But for now
HOLY SHIT, BIIIIIIITCH, THERE IS A HUMAN GROWING INSIDE OF ME
OH GOD I'M FORTY AND I'M HAVING A BABY WHAT WAS I THINKING
WAIT WAS THAT A KICK OR JUST GAS?????? and
EVERYTHING IS CAPTAL LETTERS!!!!!!!!
should suffice.
What has me fucked up in this particular moment, though, is the fact that WE DID ALL OF THIS TO BRING A BLACK CHILD INTO A WORLD WHERE DONALD TRUMP IS NOW GOING TO BE OUR PRESIDENT.
FUUUUUUUUCK.
Even though I put a lot of time and energy into getting pregnant, the truth is I was already sorta worried about bringing Black children into the world. Partly because, according to my mother and grandmother:
They run in and out of the house, letting all the heat and/or air out
They think you're one of their little friends
They want McDonald's, but they don't have McDonald's money
But mostly I was worried because of…you know…racism. It's not like everything was going great for Black people pre-Election Day. It's not like we've been frolicking in the post-racial sunshine outchea. We've never been safe. And Black parents have carried the weight of that reality for as long as there have been Black parents on this continent.
Question: How do you protect your children when you can't even protect your damn self?
Answer: Guuuuuurl, please stop asking me depressing ass questions.
Despite all of that, though, I still wanted children and I still felt joy at the thought of it.
Maybe it shouldn't, but the election of Trump has made the fear now feel bigger than the joy. It's one thing to know that as a Black, queer woman, white people don't see me and mine as fully human and deserving of all the same rights as they have. It's another thing to sit in front of my TV and watch them declare it en masse as Brian freaking Williams calls it state by state while looking at you with that one eyebrow of his that's always raised, like a baby who's either thinking really hard or pooping.
I thought we were getting somewhere. I really did. If you've read my previous work, you know I'm not any kind of cheerful optimist about systemic oppression—my position has basically been eff these honkies for like six years—but I really did think that we were making baby steps toward a future with less oppression. Granted, I figured the human race would wipe itself out before we actually got there, but I THOUGHT WE WERE MAKING THOSE BABY STEPS ANYWAY.
Okay, okay, deep down I know we have been making baby steps and that there has been progress, but there are moments when it feels like the fight is futile as fuck. Moments like these.
And then this fetus kicks and I think, "Ugh, that's my liver, you little shit!" and also, "Wow." Because, like, I'm having a freaking kid! A little Black ball of wonder who might have my eyes and like the same foods as me and love stories just like I do! (Or they might look nothing like me, hate French fries and never want to even consider reading a book, in which case I'm just glad you can return them with a receipt within two years. That's still store policy, right?)
So. Yeah. The world is trash. And it just got even trashier. But I guess I still have something that at least vaguely resembles hope. Let's call it ope. Because when I remember to peek underneath the anxiety and fear and HOLY SHIT WHAT THE FUCK HAVE WHITE PEOPLE DONE that the last week or so has inspired, what I find under there is the impending joy of a Black child.
And also acid reflux. So. Much. Acid. Reflux.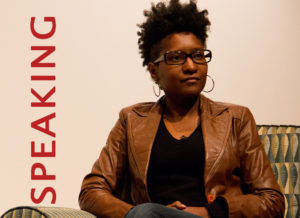 Want to bring Mia to talk race, queerness and feminism at your school or community event? She's now booking for Fall 2017!